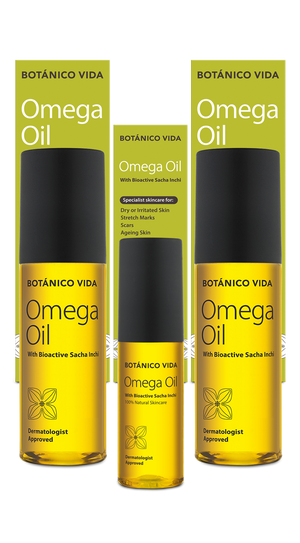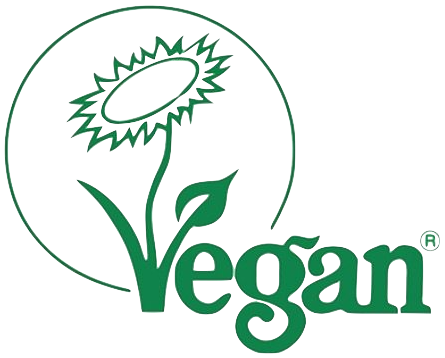 Botánico Vida UK
Omega Oil Bundle - 2 x 125ml Oil with FREE 50ml Travel Oil & FREE Delivery
Sale price Translation missing: en.products.sca_price £42.00 Regular price £58.50
Free tracked delivery on orders over £30
Special Spring Bundle - Buy two Omega Oils 125ml and get a FREE Travel Oil 50ml plus FREE UK Shipping
Botánico Vida Omega Oil is a beautiful, 100% natural, specialist skincare product to enhance and improve your skin; from babies through mature skin.
Botánico Vida Omega Oil helps to care for a whole range of family skincare concerns, from tired, dry skin to the prevention of stretch marks, scars, wrinkles, fine lines, rashes, cradle cap, red and irritated skin, after-sun, burns and as an all-round daily body hydrator. 

It works naturally by putting the skin's building blocks, Essential Fatty Acids, (especially the all-important Omega 3 and other Vitamins), directly back into the skin. Helps to calm and soothe even the most sensitive skin and leaves your skin supple, hydrated, glowing and healthier than ever.
100% Sacha Ichi Seed Oil, Argan Oil, Rosehip Oil, Olive Oil, Avocado Oil, Sunflower Seed Oil, Coconut Oil, Mandarin Oil, Grapefruit Oil, Calendula Oil
Helianthus Annuus Seed Oil Olea Europaea Fruit Oil Plukenetia Volubilis Seed Oil, Caprylic/Capric Triglyceride Coco-Caprylate Argania Spinosa Kernel Oil Rosa Canina Fruit Oil Persea Gratissima (Avocado) Oil Citrus Nobilis (Mandarin Orange) Peel Oil Tocopherol Citrus Paradisi Peel Oil, Calendula Officinalis Extract Citral, Geraniol, Linalool, Limonene
· Dry skin.
· Mature skin.
· Avoiding stretch marks during pregnancy and children and teenagers going through a growth spurt.
· Red and irritated skin such as rashes and irritations.
· Many customers have written to us testifying significant improvements in eczema and psoriasis.
· Helps the skin to heal after surgery, sports injury or a playground accident. Do not apply to broken skin or an open wound but start applying as soon as the skin has closed to help minimise scaring.
· Chicken pox – as soon as the sore is not open
· During menopause to help reduce redness and dryness
· During pregnancy to help the skin to stretch. Omega Oil has been clinically proven to increase skin elasticity by 45%
· Babies – for baby massage, cradle cap and for redness and irritation.
· Children – to hydrate and moisturise their skin daily and to keep their skin soft and supple, to soothe and redness or irritation and to avoid scarring after a playground accident.
· Teenagers – as an all over body moisturiser to help give their skin the nutrients it needs as they grow.
· Hair – It is widely used on Afro-Caribbean hair and dread locks to smooth and nourish the hair and reduce frizz
· Sunburn and After-Sun – for use after sun to help soothe the skin, lock in moisture and minimise peeling. It also helps pro-long the life of your tan.
Omega Oil is very high in essential fatty acids in particular all important Omega 3, protein and anti-oxidants which when applied topically, have a profound effect on improving the skin's barrier function, reducing inflammation, boosting the skin's natural moisturising factors and decreasing water loss. Omegas are necessary for good health as they constitute up to 30% of our skin's lipids, yet we're unable to produce them biologically. Omega Oil infuses the skin directly with these building blocks – helping to support the skin's entire cellular structure through the healing, growing and ageing process. Many customers use Botanico Vida's Omega Oil as a daily moisturiser on their entire family from babies to grandparents and at any times they have any specialist skincare concerns such as during pregnancy, on scars, skin redness or irritations, after a burn or when the skin needs some extra support.
Independent studies have concluded:

· 45% increase in skin elasticity
· 19% increase in skin hydration
· 96% of users felt their skin was smoother and softer
· 92% of users would recommend to a friend

Learn more
Apply twice daily as and when needed. During pregnancy apply daily during the entire term.
You can currently recycle all components of our packaging with the exception of the pump. From 2021 we are proud to be replacing all our PET plastic with PCR plastic  (using post-consumer waste recycled plastic) so no plastic is going into landfill or oceans, but is recycled back into new products.
Please note that we currently only ship to Mainland UK and Europe.

For orders placed by 1pm Monday to Friday, we aim to ship the same day. Orders that are placed after 1pm Monday to Friday will be processed the following day. Orders placed on Saturday and Sunday will be processed on Monday.

Your order will arrive via Royal Mail's 48 tracked delivery service. A signature is not usually required.

Delivery Rates

Delivery charges are for one delivery to any single mainland United Kingdom address. A surcharge may be payable for deliveries to the Isle of Man, some remote areas of Scotland and the Scottish islands.

Standard delivery charges to UK mainland are as follows: FREE delivery if your order is over £30.00 and £3.50 if below. Full shipping rates and information are listed here delivery details.